"Keeping active during labor and adopting natural, upright or crouching birth postions is the safest, most enjoyable, most economical and sensible way for the majority of women to give birth." – Janet Balaskas, author of Active Birth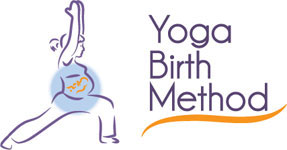 Our Childbirth Education Classes will educate you on how to have a positive labor experience and provide you with the skills needed for when baby arrives. Topics are covered through discussion, videos and exercises. By enabling yourself with knowledge you allow yourself the best possible pregnancy and birth.

This class is unique and a has been quoted as "a must for every woman and her partner" by other participants. Classes offered at the hospitals provide you with the basics of birth education. Our program will provide you with an in depth understanding of labor and a process to turn information into action. You will learn how to work through the decision making process to prevent unnecessary interventions, how to use yoga postures and breathing techniques that help encourage labor progression and manage discomfort and hands on assistance for partners to offer full support.

We use the Yoga Birth Method developed by Dorothy Guerra (RYT, Doula, CBE), incorporating prenatal yoga and pranayama (breathing) techniques suitable for each stage of labor. This method uses 8 principles of yoga philosophy that help you become connected with your body and teach you to mindfully deal with labor pain. The Yoga Birth Method also referred to as "Yogini Birthing™", encourages an enlightened and natural approach to childbirth.

Can't get to a class? Call us to arrange private session in your home or at the studio.
This can be arranged as a full day or divided over 2 sessions.

The Yoga Birth Method

Childbirth preparation learning how to use yoga during your labor. The Yoga Birth Method is a technique that uses specific postures, comfort measures and breathing intentions in each stage of labor to create an enlightened and mindful childbirth experience. Often called yogini birthing this method is the best way to achieve natural childbirth and also use informed birthing choices.
-excerpts from Birth Yoga Studio
12404 ACCORD 10501 AMAWALK 10910 ARDEN 10504 ARMONK 10505 BALDWIN PLACE 12506 BANGALL 12508 BEACON 10911 BEAR MOUNTAIN 10506 BEDFORD 10507 BEDFORD HILLS 10912 BELLVALE 06801 BETHEL 12510 BILLINGS 10913 BLAUVELT 10914 BLOOMING GROVE 12721 BLOOMINGBURG 12411 BLOOMINGTON 10509 BREWSTER 10510 BRIARCLIFF MANOR 06804 BROOKFIELD 10511 BUCHANAN 10915 BULLVILLE 12722 BURLINGHAM 10916 CAMPBELL HALL 10512 CARMEL 12511 CASTLE POINT 10917 CENTRAL VALLEY 10514 CHAPPAQUA 12512 CHELSEA 10918 CHESTER 10919 CIRCLEVILLE 12514 CLINTON CORNERS 12515 CLINTONDALE 10516 COLD SPRING 10920 CONGERS 12417 CONNELLY 12518 CORNWALL 12520 CORNWALL ON HUDSON 10567 CORTLANDT MANOR 12419 COTTEKILL 12420 CRAGSMOOR 10517 CROMPOND 10518 CROSS RIVER 10519 CROTON FALLS 10520 CROTON ON HUDSON 10521 CROTON ON HUDSON 06810 DANBURY 06813 DANBURY 06814 DANBURY 06816 DANBURY 06817 DANBURY 06811 DANBURY 12522 DOVER PLAINS 12429 ESOPUS 12524 FISHKILL 10921 FLORIDA 10922 FORT MONTGOMERY 12525 GARDINER 10923 GARNERVILLE 10524 GARRISON 06755 GAYLORDSVILLE 12527 GLENHAM 10526 GOLDENS BRIDGE 10924 GOSHEN 10527 GRANITE SPRINGS 10925 GREENWOOD LAKE 10926 HARRIMAN 10927 HAVERSTRAW 10532 HAWTHORNE 12440 HIGH FALLS 12528 HIGHLAND 10928 HIGHLAND FALLS 10930 HIGHLAND MILLS 10931 HILLBURN 12531 HOLMES 12533 HOPEWELL JUNCTION 10932 HOWELLS 12537 HUGHSONVILLE 12538 HYDE PARK 10535 JEFFERSON VALLEY 10536 KATONAH 12446 KERHONKSON 12540 LAGRANGEVILLE 10537 LAKE PEEKSKILL 10540 LINCOLNDALE 10541 MAHOPAC 10542 MAHOPAC FALLS 07495 MAHWAH 12542 MARLBORO 10545 MARYKNOLL 12543 MAYBROOK 10940 MIDDLETOWN 10941 MIDDLETOWN 12545 MILLBROOK 10546 MILLWOOD 12547 MILTON 12548 MODENA 10547 MOHEGAN LAKE 10950 MONROE 10949 MONROE 10952 MONSEY 12549 MONTGOMERY 10548 MONTROSE 10549 MOUNT KISCO 10953 MOUNTAINVILLE 10954 NANUET 10956 NEW CITY 06812 NEW FAIRFIELD 10958 NEW HAMPTON 10959 NEW MILFORD 06776 NEW MILFORD 12561 NEW PALTZ 12553 NEW WINDSOR 12551 NEWBURGH 12552 NEWBURGH 12555 NEWBURGH 12550 NEWBURGH 10560 NORTH SALEM 10960 NYACK 10562 OSSINING 12563 PATTERSON 12564 PAWLING 10965 PEARL RIVER 10566 PEEKSKILL 12769 PHILLIPSPORT 12566 PINE BUSH 12568 PLATTEKILL 12569 PLEASANT VALLEY 10570 PLEASANTVILLE 10970 POMONA 12466 PORT EWEN 12603 POUGHKEEPSIE 12604 POUGHKEEPSIE 12601 POUGHKEEPSIE 12602 POUGHKEEPSIE 12570 POUGHQUAG 10576 POUND RIDGE 10578 PURDYS 10579 PUTNAM VALLEY 12574 RHINECLIFF 06879 RIDGEFIELD 06877 RIDGEFIELD 12471 RIFTON 12575 ROCK TAVERN 12472 ROSENDALE 12577 SALISBURY MILLS 12578 SALT POINT 10587 SHENOROCK 06784 SHERMAN 10588 SHRUB OAK 10973 SLATE HILL 10974 SLOATSBURG 10589 SOMERS 06785 SOUTH KENT 10590 SOUTH SALEM 10975 SOUTHFIELDS 12483 SPRING GLEN 10977 SPRING VALLEY 12580 STAATSBURG 10979 STERLING FOREST 12484 STONE RIDGE 10980 STONY POINT 12582 STORMVILLE 10901 SUFFERN 10981 SUGAR LOAF 12781 SUMMITVILLE 10982 TALLMAN 10591 TARRYTOWN 10984 THIELLS 10985 THOMPSON RIDGE 10594 THORNWOOD 12486 TILLSON 10986 TOMKINS COVE 10987 TUXEDO PARK 12487 ULSTER PARK 12584 VAILS GATE 10595 VALHALLA 10989 VALLEY COTTAGE 12585 VERBANK 10596 VERPLANCK 10597 WACCABUC 12586 WALDEN 12588 WALKER VALLEY 12589 WALLKILL 12590 WAPPINGERS FALLS 10990 WARWICK 10992 WASHINGTONVILLE 12592 WASSAIC 12489 WAWARSING 10993 WEST HAVERSTRAW 10994 WEST NYACK 12493 WEST PARK 10997 WEST POINT 10996WEST POINT 12594 WINGDALE 10598 YORKTOWN HEIGHTS ULSTER WESTCHESTER ORANGE DUTCHESS ROCKLAND FAIRFIELD SULLIVAN PUTNAM LITCHFIELD BERGER NY NJ CT Baby Care Doula Parenting Education Services Prenatal Yoga Childbirth Childbirth Education Postnatal Yoga Midwives Midwife Obstetrician Gynecologist OB/GYN Lactation Consultant Breastfeeding Education Placenta Encapsulation Lamaze
Bradley Hypnobabies HypnoBirthing Mongan Method Calm Birth Birthing From Within Massage LMT Infant CPR Craniosacral Therapist Therapy Monatrice Sage Femme